Clubhouse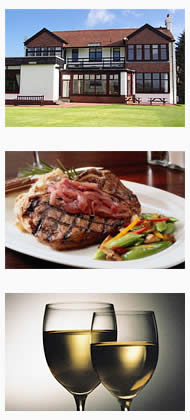 THE CLUBHOUSE
Our clubhouse offers a very warm welcome to our members and visitors for you to relax in either before or after golf! We have a large main lounge, a bright sun-lounge, junior lounge and dining room for every day use. Also in our main lounge, we have satellite and terrestrial television programmes available on a large LCD screen where you can enjoy the Sky Sports channels as well as a full size pool table.
Catering is available from tea, coffee, and sandwiches to lunch or dinner during the times shown below. Our bar is fully licensed and we are able to cater for functions for up to 90 in the main lounge.
We have a lovely patio area overlooking our practice putting green and views of the 1st and 18th fairways with further views of the surrounding countryside. All are welcome to sit outside in the warmer, sunnier weather whenever we have those days.
As you approach the 11th tee, we have a fantastic 'half-way' house which can be pre-booked for visiting parties of 20 or more. Here, you can enjoy a well earned seat in the sun / shelter from the rain, a light refreshment of your choice and any hot/cold food.
For Clubhouse Catering or Half-Way House Reservations, please call:
t. 01355 500280 for the Secretary or Clubmaster
Opening Hours
Summer Mondays – Saturdays : Clubhouse hours 07:45 - 23:00
Summer Sundays : 07.45 – 21.00 (May to August) / 07.45 – 20.00 (April & September)
October Mondays - Sundays : 07.45 – 18.30
Winter 7 Days : 08:00 - 17:00
*March (every day) : 08:00 - 19:00
Catering Hours
Summer (7 days) : 11.00am - 6.00pm (unless pre-ordered)
Winter : 11.00am - 5.00pm (unless pre-ordered)
On selected winter weekend evenings the clubhouse can be open for catering, however, prior arrangement has to be made by contacting Nigel or Janice direct.
Here are some pictures of the inside of our Clubhouse:
Meet Our Team:


Nigel & Janice Sinnamon are our Club Master and Club Mistress and are here to help and assist you in any way they can. If you're interested in making a booking for catering, private functions (provided you know a member) or golfing parties please contact them on 01355 500280 for further details on price and availability.